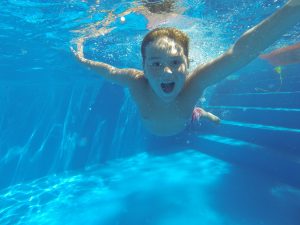 When it comes to closing your plaster pool for the winter there are three goals for most homeowners:
Preserve the quality of pool water
Secure all pool equipment
Protect the pools plaster surface
Water freezes, it's pretty simple.  When the temperature dips below 32 degrees Fahrenheit the water in your pool will begin to freeze.  When the water freezes it will expand.  Water that is allowed to freeze and expand without any special treatment given to it can cause homeowners a lot of grief in the from of busted plumbing, plaster cracks, and more.  The best way to prevent these issues is to follow a precise closing method when the season ends that includes draining the excess water from the pools plumbing.
When winterizing your plaster swimming pool one key element that must be taken into consideration is the need for chemically balanced water.  If the water is not balanced when you close your pool for the season there are a few issues that could arise including: build up and corrosion.  If water issues exist when you close the pool they will still be there when the pool is opened next spring which can make the opening process more difficult.  Stagnant pool water often "attracts" the growth of algae.  Chemicals also help to eliminate issues with pool staining from dissolving metals that are not being filtered.
Before the pool is closed down for the winter is crucial that homeowners not only take time to balance the chemicals in the pools water and include additives to prevent algae growth and staining.  Not only is balanced water important but also clean water.  The pool should be thoroughly cleaned and free of leaves, dirt, outside debris.  Any outside material left within the pools water has the ability to leave unsightly markings on the pools plaster surface.
Another step that is super important when closing your pool is the water level.  The pools water level should be lowered below the skimmer and all plumbing, drains, and pool equipment should be drained.  Once the pipes are drained it is important to use drain plugs to prevent the water from seeping back into the plumbing.  DO NOT completely drain the water in your pool.  This is especially true when it comes to plaster pools.  Water needs to be kept in the pool to avoid under ground water from putting pressure on the plaster which would cause it to crack.  Although having a pool re-plastered is common, it is not practical every year and is not financially cost effective to have done on a regular basis.
Pound Pool Plastering offers several options when it comes to servicing your pool including plaster, caulk, tiling, cement decks, plumbing, and coping in both commercial and residential settings.  More information can be found at http://www.pound-pool-plastering.com/.