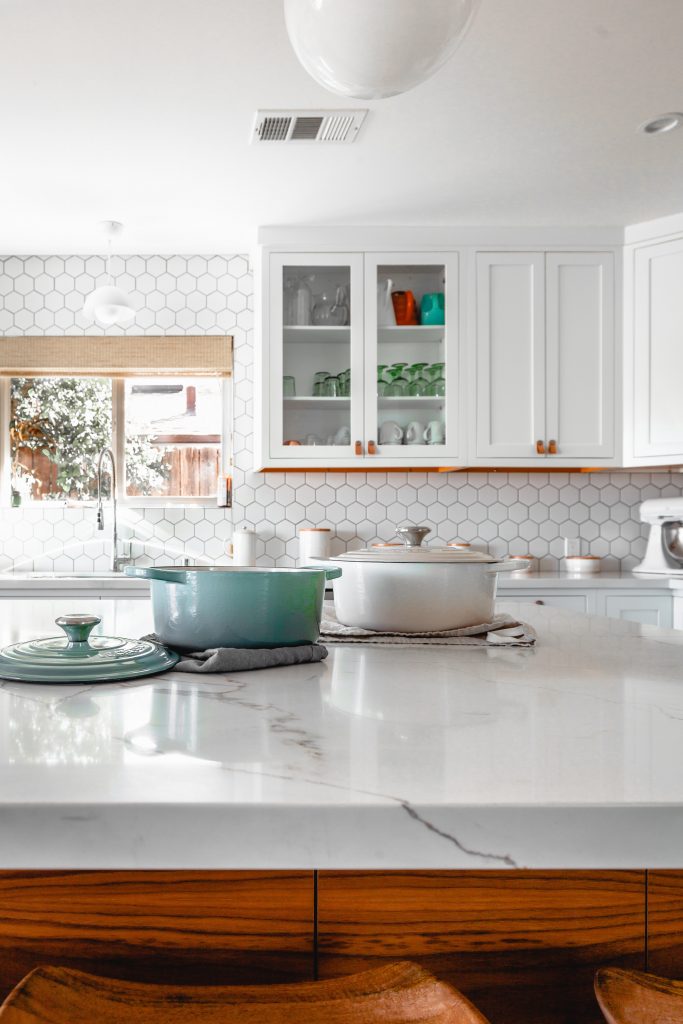 With a seemingly never-ending variety of countertops available for kitchens, what should you choose? Consider material durability as well as color. Here are six popular color choices to help you achieve the kitchen of your dreams.
Wood
An excellent choice for giving your kitchen some character, wood can break up crisp, white kitchens or add some balance to traditional or contemporary elements. Wood is a fantastic accent counter or built-in cutting board. Lighter wood feels more casual and rustic, whereas darker wood is more formal and polished.
Flecked or Vined White
Ivory stone or manufactured slab (think quartz) with a light fleck or vein is one of the most popular countertop finishes since it works well in many settings. The pale tone is neutral, fresh, sophisticated, and brings a sense of cleanliness to the kitchen. These countertops also pair well with brass accents.
Dark/Black
This countertop option pairs well with dark floors, cabinets, or other rich features. Dark-on-dark palettes should have plenty of lighting, which will ensure the space is cozy and sophisticated. Painted cabinets (perhaps a powder blue or sage green) also go well with dark countertops. Dark or black countertops are also great if you're going for that classic black-and-white look with some instant drama.
White
Corian or Caesarstone are some examples of manufactured pure white countertops, which bring a minimalist, crisp, contemporary feel to a space. Great at stain resistance, these stay crisp white with just a tiny amount of care. White countertops are recommended for themed kitchens; for example, if you're looking for a nautical kitchen, white and blue are a fantastic combination.
Neutrals
Soft grey, beige, cream, etc., can add a touch of harmony to any kitchen. Soft flecked grey stone looks similar to concrete and works well in architectural spaces. Warm metallic elements (gold or brass cabinet pulls) accentuate neutral countertops as well.
Materials – done! Contractor – look no further! At JFC Remodeling, we professionally remodel kitchens. If you have an ideal kitchen in mind, contact us, and we'll work with you to create the space you've always dreamed of.
JFC Remodeling is committed to providing top-quality home reconstruction services to clients throughout Livingston County. With over 30 years of experience in the industry, our licensed contractors create unique, individualized, and polished renovations. Whether the site requires an improvement, repair, or is a new construction, you can trust our experts to deliver remarkable results. Call: 810-923-1123, e-mail: jfcllc@comcast.net, or visit us at: www.jfcremodeling.com today.
Written by the digital marketing staff at Creative Programs & Systems: www.cpsmi.com.