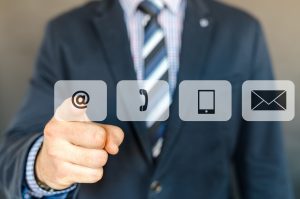 It's obvious that your sites HOME page is the most important page of your web site design.  It is the landing page and will receive the most traffic of any of the pages within your website.  The second most important page, is often the most neglected when optimizing your site, can you guess what page we are talking about?  If you guessed the CONTACT page you are correct!  Consider the goal of most of the pages on your website are created for the sole purpose of getting clients to reach out to you in one way or another.  Yet the CONTACT page is most often the most underwhelming page on your website.
Considering that most CONTACT pages have very little information on them other than a basic fill information form, an email address, phone number, and perhaps a physical building address.  Face it, that information can be a bit unenticing for website visitors.  Since the goal of the page is to reach out and touch base with you, it is important that this page persuades them to do so.
Basic Contact Page Rules
Provide More Than One Method of Contact:
We have heard it over and over again that people hate being directed to fill out a standard, one-size fits all form on websites. We also get many businesses that don't want to list their phone number because they don't want to spend the day fielding phone calls.  It is crucial to the success of any company that they don't focus too much on what they want but instead focus on the customer, CONTACT pages are made for your customers not you.  It doesn't matter if you don't want the phone number listed, if a customer prefers to call you then it is important they are able to easily do so.  Give your customers every option possible on your websites CONTACT page: include an easy fill form, an email, a phone number, a physical address, and any other method of contact that you know your customers desire.
Invite Customers to Contact You:
Even if the CONTACT page seems self-explanatory it is important to note that for visitors to your site its not that simple. Your site must include a message that is welcoming and invites visitors to contact you with whatever method they are comfortable in doing so.  I hear it all the time, "Just go ahead and slap up a contact form, people will know what to do."  Even though we can assume that visitors will see information to contact you, it is important to make them feel as if you are really waiting for them to reach out.  Otherwise visitors may see the form as an abyss,

"We are happy you found us and look forward to hearing from you!"
"We are here to help, get in touch with us today and a representative will get back to you as soon as possible."
"We value your questions and input, please reach out to us today."
It doesn't have to be anything fancy or elaborate, just a welcoming message that lets visitors know their information will be followed up on.
Use Something Other Than "SUBMIT":
More than one study has been done that shows website traffic is more likely to send information if the text button says something other than "submit". Be more specific and illicit action: "Let's Get Started Today", "Send Your Message", "Get in Touch with Us Today", or any other way to get the message across.
Don't Forget to Say Thanks:
A thank you page after visitors share their contact information with you is important for more than one reason. It not only allows you to keep track of conversions within Google Ads, it can also increase traffic to other pages on your site.  A well optimized thank you page should offer visitors suggestions on other areas of the site to interact with while they are waiting to hear from you.
As the second most visited page to most websites, the contact page is an important aspect to remember when optimizing your company's website.  With proper optimization to this single page you can increase contacts and isn't that the reason we have websites to begin with, more contacts equal greater business opportunities.
Creative Programs and Systems, CPS, is an all-inclusive IT solutions company offering a variety of services including: managed IT services, IT consulting, residential computer services, custom programming, website design, iphone & android app development, and more.  More information can be found at https://cpsmi.com.