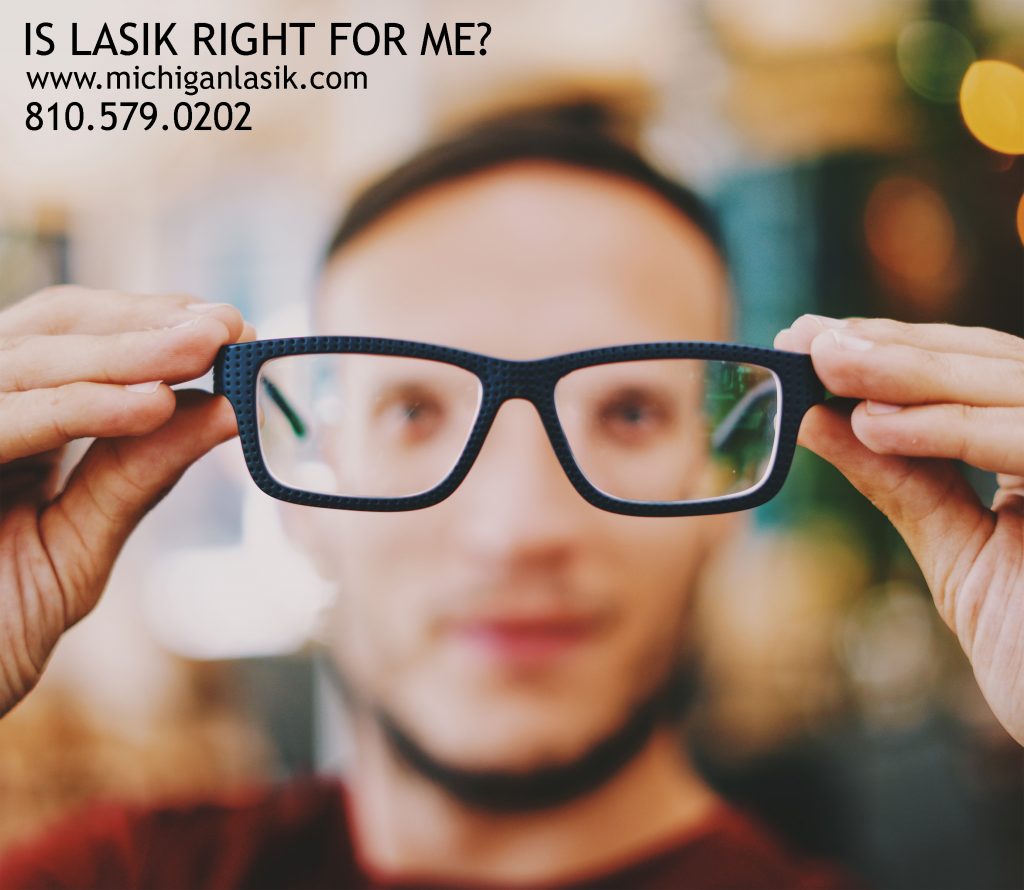 Having LASIK performed may mean that you no longer have to wear corrective lenses to properly see. However, how do you know if you are a good candidate or not?  What should you consider when you are weighing out your corrective vision options?  Obviously if you are tired of having to put contacts in every morning or are sick of wearing glasses you start to consider laser eye surgery. 
LASIK is a type of refractive eye surgery that is done that helps patience achieve 20/25 vision or greater.  This is optimal for most activities that we will participate in.  Often, patients do eventually need glasses as they age or even for nighttime driving.
The complications experienced with LASIK are rare.  In fact, LASIK has a high success rate.  Dry eye is the most common issue experienced after LASIK.  This usually ends up clearing up with the use of eye drops.  It can last up to a few months however, this is rare.
Your specific results will depend on a number of factors including your refractive error. Patients that suffer from mild nearsightedness have reported greater success from refractive surgery than patients with a high degree of far or near sightedness or an astigmatism.
What Happens During LASIK?
There are a number of variations of laser refractive surgery.  For our purposes we will refer to them under the term LASIK. With normal vision, images are focused on the retina in the back of the eye.  When your eye sight is less than perfect it means that the image is being focused elsewhere, which results in blurred vision. 
Normally, images are focused on the retina which is in the back of your eye. With nearsightedness (myopia), farsightedness (hyperopia) or astigmatism, they end up being focused elsewhere, resulting in blurred vision. This is corrected by reshaping the cornea to provide the proper refraction thus correcting your vision. Before your surgery begins your eye, surgeon will take detailed measurements of your eye. The laser is then used to properly remove parts of the corneal tissue until proper vision has been achieved.
In order to be a candidate for LASIK there are a number of requirements that must be met.  Patients must be in good health and free of diseases that could restrict healing.  Overall you must have healthy eyes that suffer only a moderate degree of refractive errors and you are not or have not experienced any unusual vision issues.  Age related vision disorders such as cataracts are not cured during LASIK.  Cataract surgery is different than LASIK.  If you have an active job or lifestyle where you can not take time off to recover, then LASIK is not appropriate for you.  Recovering from LASIK surgery is fairly simple but does require you to avoid intense workouts or activities where you could suffer a blow to the head for at least a month. 
Rohr Eye & Laser Center offers the most advanced technology available to suit your lifestyle and visual needs. As a leader in laser vision correction and cataract surgery, our goal is to help you achieve the best vision possible without glasses or contact lenses. More information can be found online at https://michiganlasik.com.