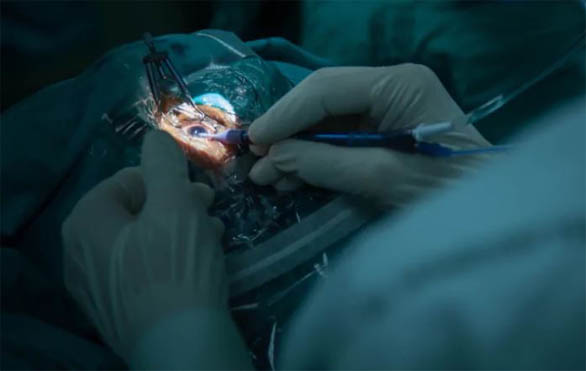 Cataracts have become a common complaint amongst the aging population.  In fact, cataract surgery is one of the most common surgeries performed in the United States today.  Thankfully, surgery is very successful step in treating cataracts and improving patients' vision.  The word surgery itself seems to invoke a lot of fear let alone pairing it with the word eye. The good news is that most patients undergoing cataract surgery not only experience improved vision, but they do so with little to no side effects. 
Cataract surgery is performed by making two incredibly small incisions in the cornea. The cornea is a transparent dome that is made up of tissue that covers the front of your eye.  The incisions that are made into this tissue are less than 3 millimeters.  This is very small incision. 
Once the two incisions have been made, your cataract surgeon will inject a gooey thick material into the front of your eye to help it keep its natural shape while the surgery is performed.  The goo that is injected is a substance that naturally occurs in your body.  The thickness of the bi-product ensures that leakage does not occur while the surgery is performed.
Phacoemulsification is the technical name of the cataract surgery we are discussing.  In Phacoemulsification your surgeon creates a lens capsule to hold the lens in place.  This is done by creating an opening with in the natural sac and then separating the lens from the capsule by using a salt solution.  Once a surgeon has opened the capsule the lens can move freely within it. A specialized ultrasound is used to break up the lens into a bunch of small pieces and suck it out of the eye. 
Before Phacoemulsification, cataract surgery looked a lot different.  In prior surgeries cataracts were removed by making a large cut in the cornea and removing the lens in one solid piece.  This procedure required an extended recovery time as well as increased risk of infection, complication,and lasting side effects. 
In Phacoemulsification once the lens pieces are removed, more goo is injected into the lens capsule to help keep it open and to make room for the placement of the new lens.  The new lens is then placed into the lens capsule and allowed to unfold naturally.  The goo material will have kept the shape of the eye throughout surgery and the two small incisions will self-heal. 
This surgical option to removing cataracts was introduced over forty years ago and remains the most popular method used by eye surgeons in removing cataracts today.
Rohr Eye& Laser Center offers the most advanced technology available to suit your lifestyle and visual needs.  As a leader in laser vision correction and cataract surgery, our goal is to help you achieve the best vision possible without glasses or contact lenses.  More information can be found online at https://michiganlasik.com.