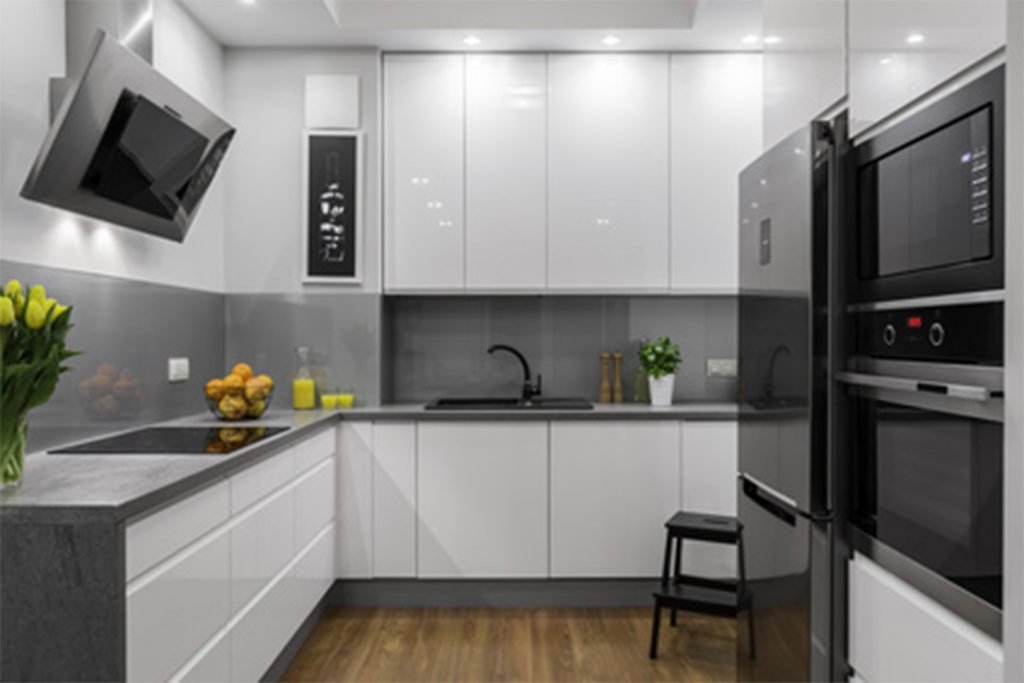 Today's kitchen and bathroom designs look much different than they once did.  Long gone are the days of bright colored kitchen accessories and appliances and utensils that serve only one purpose.  We have trades yellows, oranges, and greens in for white, gray, and stainless steel.  Now-a-days everything is about simplicity and function.  Homeowners are looking to create spaces that are organized, uncluttered, and tranquil. 
There is nothing new to the white and gray color trend that is upon us.  In remodeling and new construction both, the peace and calm that comes with this color combination makes it attractive.  This isn't the only trend that seems to be highly identifiable throughout the construction industry. 
Another trend that seems to be picking up speed is the ability to customize their homes and the spaces within them without dating them.  Flexibility in decorating has become important.  Homeowners want the ability to switch a few elements and create a completely different space without the expense of a complete room renovation.  This allows homeowners to keep up with the latest trends without the costs of remodeling year in and year out.
In 2019, trends, updates, and modifications in bathroom and kitchen designs come from innovations in technology and the desire for easy, low-maintenance living.  When working with your contractor on the design of your kitchen and/or bathroom renovation consider the following.
The Latest Luxuries to Consider in Bathroom Renovation Design
Smart Toilets:
Technology has improved lots of features in the home including the most basic feature, your toilet.  New toilet models have advanced features that make bathroom maintenance minimal.  Smart toilet models have built-in features including bidets, self-cleaning functions, and night lights.  How great is it to have a toilet that does not need to be deep cleaned on a regular basis?  Don't be surprised when your contractor asks you if you want a toilet seat that is adjustable or one that will warm your bottom!
Barn Doors:
Rustic and industrial-chic features have been a part of remodeling for years now.  Using barn doors is an efficient way homeowner can gain access to a room or closet without having to make room for the door to swing open and closed.  Barn doors are used a lot in universal design because of the safety mechanisms that they can be fitted with to prevent locking from the outside. 
Free- Standing Tubs:
Bathroom spaces are bigger than ever before.  With more floor space comes the ability to add luxury.  One of these luxuries is large, free-standing bathtubs.  Most stand-alone tubs are large enough that users can actually soak their entire bodies in them, including their knees.  This luxury is something that homeowners are embracing.  Not only are large bathtubs popular in remodeling but so are larger showers with an abundance of faucets and not just the one overhead. 
Mixing Materials:
There is a lot of room for originality even when homeowners choose to stick with a neutral gray and white color scheme in the kitchen and bath.  The mixing of different tiles including porcelain, stone, ceramic, and glass tiles are being mixed to create appeal.  Different textures add charm even if they are in the same color palate. 
Voice Controlled Technology:
Homes are being renovated to include all types of smart technology.  Your toilet isn't the only thing that can light up and clean it-self. Without ever touching a button, homeowners have the ability to adjust the lighting in their smart mirrors, increase the temperature of the water coming out of the faucet, increase the volume of the television and stereo as well as changing the lighting.  Imagine being able to control the radio station without leaving the shower.
JFC Remodeling is a full-service licensed contractor out of Howell, Michigan. Specializing in kitchen and bathroom renovations, flooring upgrades, and home remodeling services. More information can be found online at https://jfcremodeling.com/.