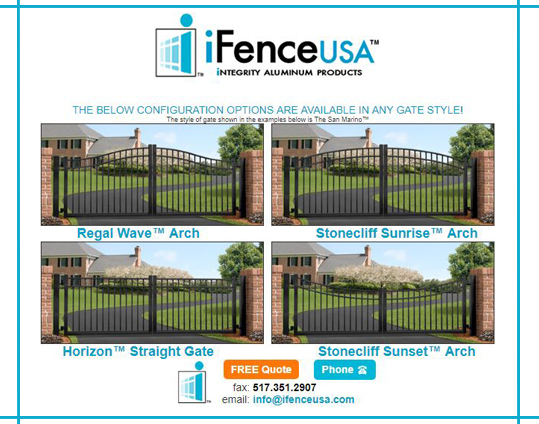 Homeowners should understand that although many times a driveway gate is attached to perimeter fencing it doesn't have to be in order to be effective.  There are a number of ways in which an aluminum driveway gate can be installed.  Matching a fence to the entrance of the driveway can be preferable however is not necessary.  There are a number of options in driveway gate installation to ensure it is not only aesthetically pleasing but also sturdy and purposeful. 
The main purpose for installing an aluminum entry gate is to eliminate access to your home via the driveway.  Just as the main purpose for aluminum fencing is to add a barrier of protection.  It works both ways, fence and gates not only keep unwanted individuals out of your space, they work to keep the ones you want in. 
No two driveways are the same. Driveways come in a variety of shapes, lengths, widths, and even terrain. The placement of your home's entry gate is up to you. Some homeowners choose to put the gate at the end of the driveway, near the street, while others choose to place the gate up towards the house. The placement of your driveway gate will depend on your preference and landscape.
Not only is a driveway gate aesthetically pleasing adding to the curb appeal of your home, it is helpful in creating a barrier between your home and the outside world.  Curb appeal is an important element in real estate.  The outside of your home gives buyers a glimpse on what they can expect on the inside. Driveway gates bring a space all together and help to present an entrance that is welcoming while securing the property. 
Aluminum driveway gates and fencing are just one way that homeowners use to separate their private space from the surrounding public space.  This helps to create a secure boundary that also deters thieves.  Seriously, breaking into a home is a lot easier when a thief doesn't have to penetrate through an aluminum fence or driveway gate. 
If you don't have an aluminum fence to attach a driveway gate to, don't fret.  There are a number of ways in which an entry gate can be attached other than to a matching fence.   Driveway gates offer additional security to homes even when a fence is not in place.  A large entry gate can appear quite intimidating.
If your landscape is not set up so that your entrance gate can be attached directly to aluminum fence panels another option to consider is the installation of stone or brick columns on either side of the driveway.  This is another aesthetically pleasing option when installing a driveway gate.  Stone or brick columns add another dimension to the landscape. 
When installing a sliding or swing gate choose a style that compliments the existing space while adding a little flare to make an overall statement.  The end goal is to find a gate that presents a cohesive look and feel to your home and property. 
iFenceUSA is an online distributor of wholesale aluminum fences and gates for residential, resort, commercial, and industrial installation. As an industry leader in maintenance-free aluminum fencing products we have all your aluminum fence and gate needs covered. More information can be found online at https://ifenceusa.com/.