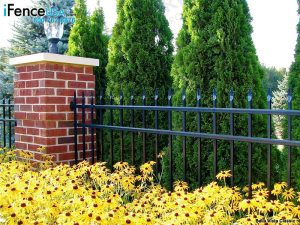 A four-foot-tall aluminum fence in white, adorned with circles offers a contemporary design to enhance the clean look and feel homeowners are looking for in a backyard oasis.  A six-foot-tall, classic black aluminum fence with an added dual driveway gate offers sophistication and style to regal, two story colonials in brick.  Aluminum fencing offers several unique design options which offer homeowners a way to individualize their unique story.
Aluminum Fence Height:
The height of your home's aluminum fence is one of the more critical choices you will make when selecting your new fence.  The height of your homes fence will depend on the job that it needs to perform.  Aluminum fencing used around the perimeter of a pool must be four feet or higher other than that the only other regulations you need to consider is those in place by your HOA and local municipalities.
If a fence is only for aesthetics you can literally choose any height that is offered for sale, from three feet to twelve feet.  Are you using the fence to keep children or pets inside the yard?  Is the fence being added for additional safety, to prevent unwanted visitors?  Maybe the fence is purely for aesthetics.  Whatever the reason, iFenceUSA has a fence that meets your height requirements.
Resort, Residential, Commercial, or Industrial Grade:
Another choice that homeowners need to make is when selecting the grade (thickness of aluminum) of fencing. It may seem obvious that homeowners would choose residential grade aluminum fence however that is not always the case.  The grade of fencing not only determines the strength and thickness of the aluminum that is used in your fence but also the size of the individual pickets, and then length of the aluminum fencing panels.

Style:
iFenceUSA offers eighteen unique options of aluminum fencing to choose from including popular options The San Marino, a flat top aluminum fence style and The Bella Vista, a simple and elegant spear top style. There are three major options when it comes to aluminum fence styles: flat top, exposed spears & finials, and flat top with spears.
Flat Top:
The most popular style in aluminum fencing which covers the pickets so that there is nothing left above the top flat railing.
Spears & Finials:
This style offers a more decorative option for aluminum fence.  The pickets are spruced up with a variety of ornamental styles of finials, spears, butterfly scrolls, and circles.
Flat Tops with Spears & Finials:
Aluminum fencing that offers homeowners a combination of elegance with ornamental option with a subdued flat railing.
Color:
One of the last but important decisions homeowners will make has to do with the color of their new fence. Black aluminum fence panels, both matte and glossy, are the most popular option for homeowners.    iFenceUSA offers nine color choices when picking out your new fence including: Matte bronze, Bronze, White, Matte White, Green, Beige, Matte Sandstone, Black, and Matte Black.  When choosing a color for your fence consider the color and style of your home, choose a color that will compliment your home and matches its style.
iFenceUSA is an online distributor of wholesale aluminum fences and gates for residential, resort, commercial, and industrial installation.  As an industry leader in maintenance-free aluminum fencing products we have all your aluminum fence and gate needs covered.  More information can be found online at https://ifenceusa.com/.