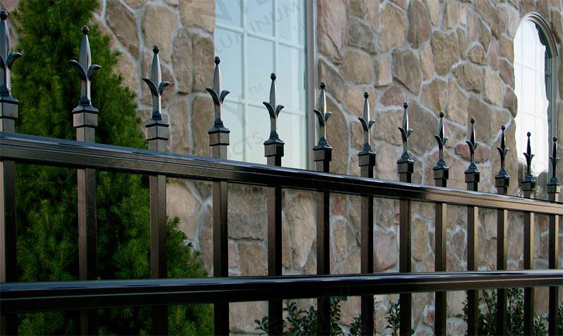 Nothing is better than adding to your homes curb appeal while increasing privacy and security.  There are a number of aluminum fence and gate styles to choose from which are far more appealing than styles of the past.  One of the best elements of aluminum fencing is the ability to be able to choose the grade of fencing from residential to industrial.  Thus, making aluminum fencing every bit as strong as you desire with unlimited customization options.  Aluminum driveway gates and complimentary aluminum fence panels are a perfect addition to any home.
What Style of Aluminum Fencing Is Right for Your Home?
It is not often that you find yourself shopping for an aluminum fence, is it? The number of styles, features, and options to choose from when customizing your fencing choice. The aluminum fencing of today is far superior to old metal fencing of the past. By choosing the right style, accents, and complimentary features an aluminum driveway gate and fence can completely transform any property.
Aluminum Fence Considerations
Choose an Aluminum Fence That Compliments Your Home, Landscape, and Surrounding Property
There is a wide selection of aluminum fencing and driveway gates online, so it is simple to find a style that will enhance the exterior of your home.  iFenceUSA.com offers 18 different styles to choose from, in nine different colors, with hundreds of options to choose from to enhance the look, feel, and usability of your new fence.  Aluminum pairs well with all different style of siding including aluminum, stone, brick, stucco, wood, and more.  If your desire is to add grandeur, consider the addition of decorative post caps or an ornamental picket style in classic black.
Ornamental Aluminum Fence Accessories
Ornamental aluminum fence designs are ageless and well perceived when installed in both residential and commercial settings. Wrought iron was incredibly popular and the appearance is often sought after in the look and feel of a fence now-a-day. Aluminum fencing can achieve a Victorian era wrought iron fence appearance with ease with the installation of fence embellishments. Achieving this look and feel with wood can be limited and steel can be expensive, aluminum is lightweight, affordable, and easy to install.
Identify Your Priorities
Choosing an aluminum fence style doesn't have to be difficult. You can narrow down the options by identifying exactly what you want your fence to accomplish. Are you looking for a more decorative fence to spruce up the space or are you looking to add privacy? Is the installation of a driveway gate and perimeter fence needed as a form of security to keep people outside of your space while keeping your kids/pets secure within the property? Once you have identified your priorities you will easily narrow down the perfect style aluminum fence panel.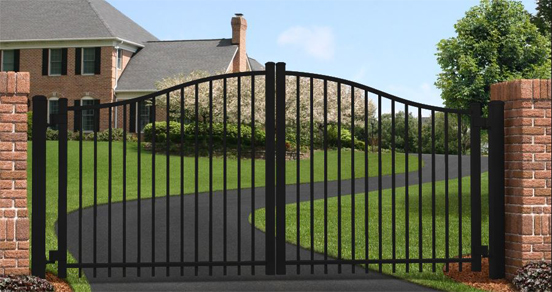 Aluminum fencing and entry driveway gates not only come in a variety of styles, colors, and offer a homeowner a great deal of functionality.  The online, aluminum fencing professionals at iFenceUSA.com can help you through the entire process from measuring, planning, ordering, installation, maintaining, and more.
iFenceUSA is an online distributor of wholesale aluminum fences and gates for residential, resort, commercial, and industrial installation. As an industry leader in maintenance-free aluminum fencing products we have all your aluminum fence and gate needs covered. More information can be found online at https://ifenceusa.com/.