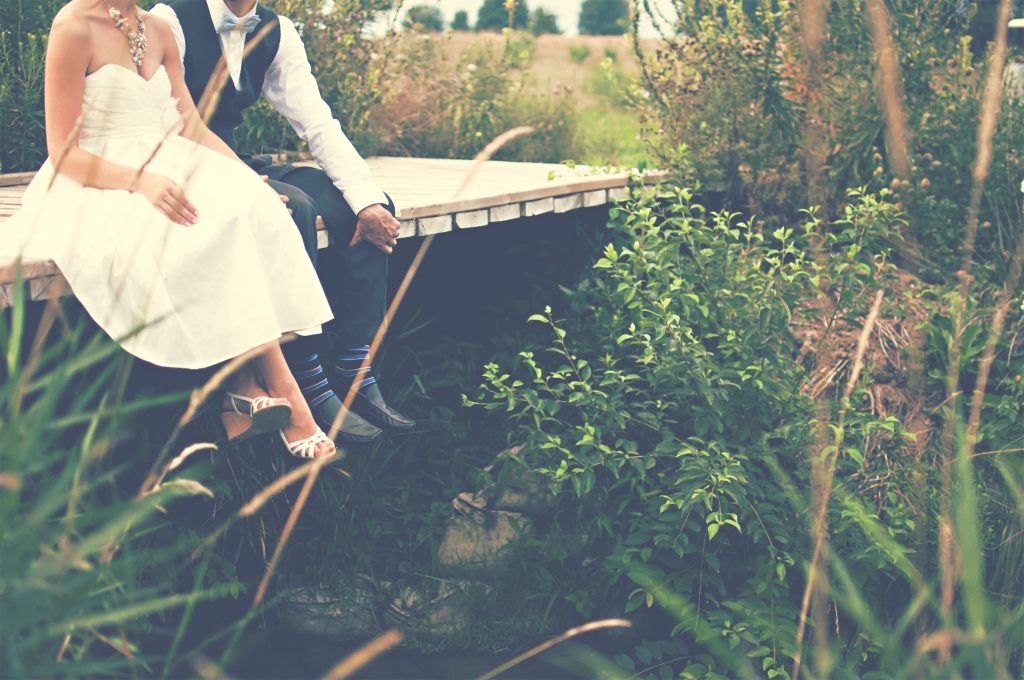 When it comes to planning a wedding the spectrum of brides ranges from those who have absolutely no idea what they are doing to those who believe that after they have planned their own wedding, they should quit their jobs and plan weddings full-time.  It is pretty obvious that brides who have no idea where to start would hire a wedding planner to help them through the planning and execution of their big day however, for brides that feel like they have it under control or where money is tight the answer might not be as clear cut. 
Should you hire a wedding planner?
YES! All brides, no matter if they have a clue or not can benefit from the experience, industry connections, and extra hands that a wedding planner offers to their big day.
A wedding planner not only saves brides and grooms time but also money.  Choosing to hire a wedding planner is wise.  In actuality, the money spent on a wedding planner is often recouped by brides and groom in a multitude of ways. Consider the days off that you would have to take if planning your wedding without the help of a planner.  Days off without pay to visit vendors and scope out venues.  Think about all the lost connections as well.  Wedding planners have connection within the industry that brides and grooms don't.  These connections can lead to big savings.  It is not uncommon for vendors to offer discounts to brides and grooms who book them through certain wedding planners. 
Wedding consultants can really help stretch a wedding parties' budget.  After planning so many weddings, consultants know what is important, what aspects are going to have an impact and what aspects will get overlooked.  Although releasing 20 doves may seem like a good idea, the same affect can be had from just two and save a ton of money.  What seems like a small decision can wind up costing brides and grooms' big bucks.  Wedding planners can help guide them into better decisions that offer the same impact.  
Wedding planners will always be on your side.  They fight for what you want and work for you to keep your vision in mind when working with vendors and YOUR FAMILY.  It is true, not all fairy tale weddings occur without some hiccups from the people throwing their two sense in the mix which can often derail an already stressed out bride's ability to make decisions.  Thankfully when you hire a wedding planner to help make your magical day come to life all they want is to bring your dream to life.  They will fight for your wants and needs.  They take your unique vision and eliminate the opinions of others to make it happen. 
The journey from "Will you marry me" to "I Do" is a long one.  Many brides have told us that by the end they just run out of fight.  A wedding planner doesn't let this happen.  If you want an outdoor wedding even if it looks like it is going to rain, a wedding planner will fight to bring your vision to light up to the very last minute.  They will be out drying chairs if it stops 5 minutes before you are walking down the aisle and if the rain looks like it won't be stopping, we do our best to turn the indoors into an outdoor paradise for you.  
Wedding planners bring the level of stress down a hundred notches.  Let's face it, brides are under a lot of stress.  Vendors often mention that it way more difficult to work with a bride, groom or their parents then it is to work with a planner.  Wedding planners streamline the process, thus decreasing the overall stress that participants from all angles are experiencing. 
Event Planning DC provides full event planning, partial event planning, month-of (day-of) event coordination, event styling/design and decorating services throughout DC, Maryland, and Virginia, with access to local and national vendors who may provide additional services suitable for your event and budget. We pride ourselves on providing only the highest quality event coordination, giving you and your guests the perfect day, no matter what the occasion including exclusive corporate and non-profit events, weddings, Bar & Bat Mitzvahs, community events and milestone celebrations. More information can be found online at https://www.eventplanningdc.com.