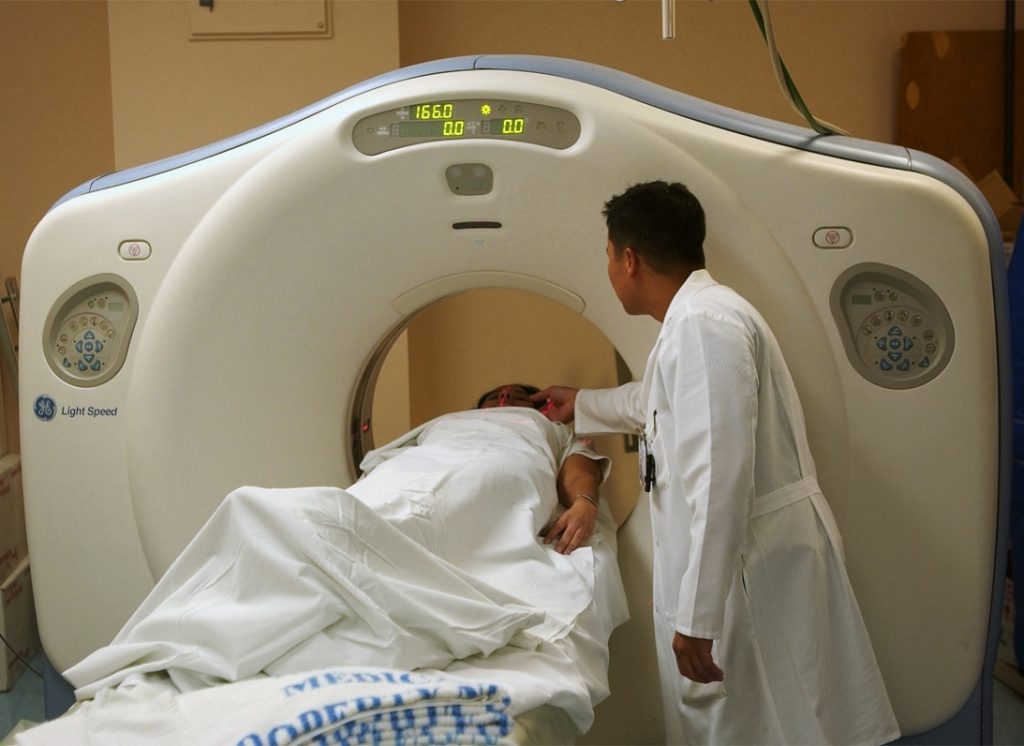 As promised in our last blog post today we will dive into the concept of radiation therapy.  In our last installment we discussed linear accelerators and how the radiation beam is produced and delivered.  If you are unfamiliar with LINAC and how radiation is created and delivered look back at our previous blog post before continuing. 
Radiation Therapy
The treatment of cancer with radiation is known as radiation therapy. Depending on the type of cancer you have been diagnosed with will depend on the way radiation therapy is delivered to your tumor(s).  The most common method of radiation therapy is external beam therapy.  This involves delivery of radiation to the cancerous tumors from outside of the body.  The radiation is delivered directly to the tumor.  A LINAC allows the radiation beam to be shaped in the same shape as the cancerous tumor.  Another option of radiation therapy is internal radiation therapy.  This treatment involves implanting radiation directly onto the cancerous tumor. The nature of the cancer being treated will determine the type of radiation therapy delivered.
How It Works
Radiation therapy does not distinguish between healthy and cancerous cells although the effect is greater on cancerous cells. The highest dose of radiation possible is delivered to the cancerous tumor in the attempt to kill, break down, and shrink tumor. Smaller doses of radiation can be delivered when palliative care is the goal.  The goal of palliative care is to relive symptoms of cancer by shrinking the size of the tumor.  Palliative care is focused on increasing the quality of life left for a patient and their family. 
Who Performs Radiation Therapy
A radiotherapist/radiation oncologist is what we refer to as a physician specializing in the treatment of cancer. This individual is the person that will plan and oversee your treatment from beginning until the end of treatment.  Radiation is delivered by a professional known as a radiation specialist.  A team of professionals will work with your specialists to ensure you are receiving the best care possible.  Some of the members of this team include: nurses, health care assistants, counselors, and dietitians. 
Treatment Plan
Each course of radiation therapy is uniquely designed for the patient that is being treated. A preliminary appointment will be scheduled in which you will discuss your course of treatment. This plan is created by your radiation oncologist and radiation therapist using all the scans and x-rays that have been taken of your cancerous tumor. The skin is colored in to define the location of the tumor and where the treatment will be delivered. If radiation is being delivered to your head a head shell will be created for you that allows for the exact placement of treatment to be marked on the shell vs on your skin. Treating cancer in the mouth or throat will require a dental assessment to determine if dental treatment is needed before radiation can be delivered.
Inpatient vs Outpatient
Patients that can go to and from the hospital easily will most likely be allowed to have outpatient radiation therapy. Your radiation oncologist will tell you if they would prefer your treatment to be inpatient but overall most treatment is done on an outpatient basis.
Additional Tests/Scans During Treatment
Over the course of radiation therapy, patients will be asked to have an occasional blood draw or urinalysis completed.  X-rays and other scans can also be required to determine if the radiation is working and if the placement of the treatment is correct based on the shrinking or break down of the tumor. 
During Treatment What Should I Avoid
Radiation therapy should be considered an interruption to normal life.  Your daily life can be continued as normal if you are feeling emotionally and physically able. 
Things to Keep in Mind During Radiation Therapy
Delivery – External radiation therapy is delivered using a machine known as a linear accelerator which was described in detail in our last installment.  For radiation to be delivered, you as the patient will be asked to lie on a couch under the LINAC and will need to remain still until the treatment is over.
Pain – Radiation therapy is painless. The radiation can not be felt or seen during delivery.
Radioactivity – Patients always wonder if they will be radioactive after receiving radiation therapy. You can rest assured that you will not be radioactive, there is no possible way for this to occur.
Duration – The duration of treatment will be decided by your radiation oncologist. A course of radiation can be between one treatment to one every day, for one week to six weeks. This will all depend on the type of cancer being treated, the dose of radiation needed, the part of the body being treated, and the aim at therapy whether it is therapeutic or palliative.
Length of Sessions – The length of each radiation session varies between machines and what is planned in your specific treatment plan.  Some LINAC operate at a faster rate than others.  Some cancerous tumors respond better to longer treatment sessions with smaller doses of radiation.  On average patients can expect that their sessions will last between five and fifteen minutes. 
Do's and Don'ts During Treatment
Do's
Make sure to drink plenty of fluids
Eat a regular, balanced diet
Shower regularly
Don'ts
Avoid alcohol, spicy food, or extreme hot and cold food
Avoid exposure to sunlight on the treated area
Avoid applying creams and deodorant to the treated area
Side Effects
Radiation treatment is localized.  Side effects depend on the location of treatment on the body.  We should note that side effects are rare however the following can occur:
Nausea
Diarrhea
Frequent Urination
Sore Throat
Localized Hair Loss
Work
Patients can keep on working as usual as long as they are feeling able and their radiation oncologists agree. If your oncologist suggests time off for rest, it is best to listen to them and avoid work.
Once Treatment Is Finished
If you do have any of the above side effects, it can be assumed that they will end after a week or two.  The full benefits of radiation can usually be reached after a few weeks.  You will follow up with your specialists after four to six weeks of your final radiation treatment.  This will all be determined by your radiation therapist. 
As an independent LINAC service company, Acceletronics is dedicated to delivering the best equipment performance and services for linear accelerators and CT scanners across all major brands and models, as well as new and refurbished LINAC systems for sale. More information can be found online at https://www.acceletronics.com/.