Brachytherapy is a type of radiation therapy. Unlike other types where an external radiation machine known as a linear accelerator is used brachytherapy uses radiation that is implanted close to the cancerous cells. In brachytherapy radiation is implanted within your body as close to the cancerous cells as possible. A higher dose of radiation therapy can be given in a shorter amount of time than with types of external radiation therapy.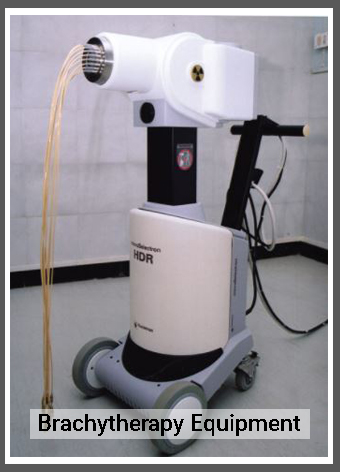 Brachytherapy is not delivered through external radiation therapy but instead the radioactive materials are delivered using a hollow tube(catheter). The radioactive materials are implanted directly onto the cancerous tumor. The implants that are used can be either temporary or permanent. This form of radiation therapy allows treatment to be delivered to the cancer cells without damaging the normal tissues close to the cancer.
Doctors use brachytherapy when they have decided that your best treatment option is a higher dose of radiation delivered directly to the cancer. External radiation offers lower doses of radiation than brachytherapy can. Higher doses of radiation are often needed for cancers such as: brain,breast, cervical, ovarian, head, neck, and lung.
How does implantation work?
Implantation of the radiation can be delivered in two ways:through an outpatient procedure or another which requires general or local anesthesia and a stay at the hospital.
How much time is needed for brachytherapy?
The time needed to perform brachytherapy depends on whether it is being done on an inpatient or outpatient basis, the type of radiation therapy to be used, and the nature of your cancer. Internal radiation therapy can be done through the course of three to five treatments when done on an outpatient basis for a few minutes over a number of days while other types of internal radiation therapy is left in place for up to a week and requires a hospital stay during this period of time.
Should side effects be expected?
Although you will most likely avoid side effects during treatment you may feel some discomfort. Having a catheter put in place can cause tenderness. If you are given anesthesia when the catheter is implanted you can feel nauseous, weak, and drowsy. Medicine can be prescribed that allow you to relax while relieving your pain. If you experience any burning, excess sweating, or any other symptoms that seem unusual to your physician.
What happens when the actual implant is removed?
After the implant is removed the surrounding area can become sensitive for a bit although regular activity can be resumed when you feel ready. As with any procedure it is important to allow your body to rest, so you can fully recover after treatment.
If you have a permanent implant installed rest assured, it will safely stay in place. Once the radiation is completely gone the capsule in which it is contained will become inactive and no longer providing radiation.
As an independent LINAC service company, Acceletronics is dedicated to delivering the best equipment performance and services for linear accelerators and CT scanners across all major brands and models, as well as new and refurbished LINAC systems for sale. More information can be found online at https://www.acceletronics.com/.