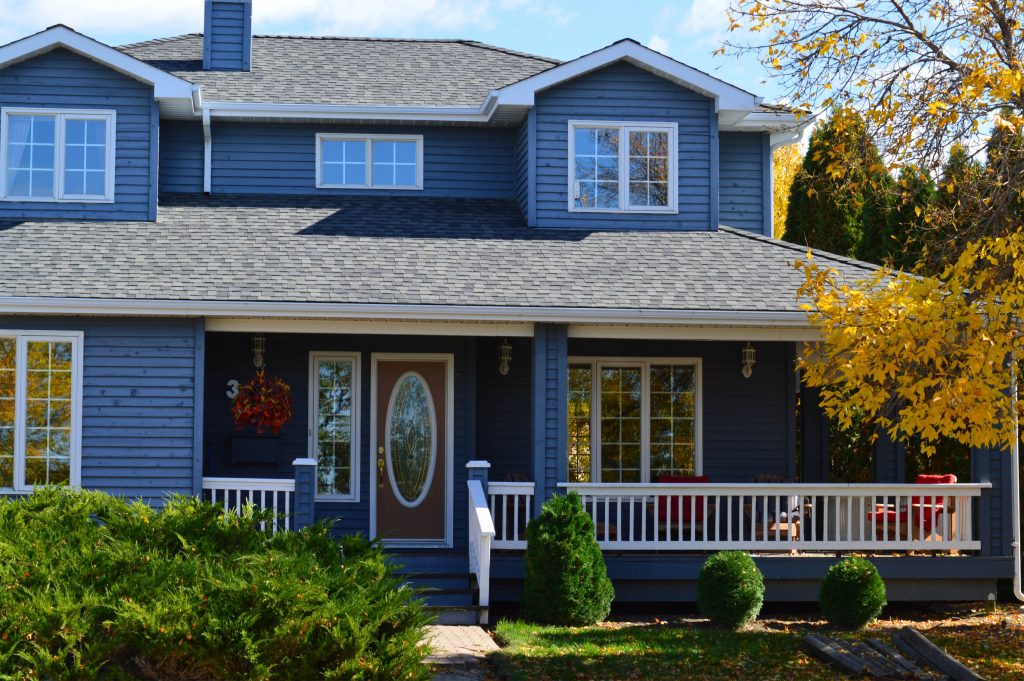 When it comes to home improvements nothing is more important than your homes curb appeal.  This is particularly true when you have decided that you want to sell your home.  No matter how the house looks on the inside if the outside is a total mess from the curb, buyers aren't going to add it to their must see list of houses. 
The good news for us is that exterior home improvements are those that get the biggest return on your investment.  Bigger returns on investment often lead to greater home values.  Unfortunately, not all home renovations are treated equally.   Below you will find the top exterior home renovations to give you the biggest bang for your buck!
The Installation of a New Front Door
Having your front door replaced sounds simple and it is however, replacing an old, low-quality door with an ornamental steel door really has an impact on your homes overall value. This single exterior home improvement can net you over 80% on your ROI while really changing the overall curb appeal.
A professional exterior home improvement expert can take your renovation a step further by adding a pediment and changing up the moldings around the doors frame.  These updates not only help to enhance the door itself, they add an overall intensity to the appeal of the front door.
Upgrading Your Homes Front Porch
The front porch of your home is where you welcome your guests and where future buyers will see themselves inviting family and friends inside their new home.  Front porches bring images of sunshine, sweet tea, and overall relaxation.  A front porch addition also works to increase the usable outdoor space of the home. People always consider the addition of a deck however, a new porch can offer up to a 70% return on investment.  Additional seating on a porch is always a great idea but to chance up the overall look consider adding faux stone to enhance the siding and other architectural front porch features.
New Fiber Cement Siding
No matter how many upgrades you do to the exterior of your home if your siding is peeling, cracked, warped, or rotting it can really decrease the appeal of the exterior.  New fiber cement siding is a popular option for the exterior of your home as it doesn't warp, peel, chip, or rot.  Its increased longevity is a real value to buyers.  Another selling point of fiber cement siding is its resistance to fire and insects.  Homeowners that have fiber cement siding installed can be confident that this is a purchase that will stand the test of time.
Add Lighting Around the House and Landscaping
Lighting is an important aspect both inside and outside of your home.  For optimal curb appeal add lighting elements beside doors, especially the front door, and accent lighting around the exterior of the home. Additionally, landscape lighting should be added to accentuate key features around the yard.  Play off of your usable space with additional lighting to emphasize the size of your lawn.  Even the smallest of yards will seem bigger and more usable when lighting is added to the space.
Replacing Your Homes Roof
Without a doubt your roof is one of the most important exterior elements of your home.  Not only does it protect the structure from the daily climate changes, it also plays a large role in the efficiency of energy throughout your home.  Older roofs often have a number of issues from small leaks to missing shingles.  It is important to have your homes roof inspected yearly.  A roofing contractor is an expert is finding damage we may miss before it becomes something more major than just replacing your homes roof. 
The great news if you do need to replace your roof is that there are an abundance of new materials available in roofing.  Long past are the days when your only option were flat, three-tab shingles. Now-a-days homeowners have endless options in roofing materials including architectural shingles that reflect solar rays!  Long gone are the days where our air conditioners have run all day fighting the heat that is being transferred throughout our homes from the attic that has retained the heat of the sun.  We all know what efficiency adds up to in the long run, additional money in our pockets!
As a full-service home improvement contractor servicing all Southeast Michigan, Kearns Brothers, Inc. offers clients a wide range of services to meet their construction needs including:roofing, siding, window, masonry, chimneys, gutters, and insulation services.  More information can be found at www.kearnsbrothers.com.