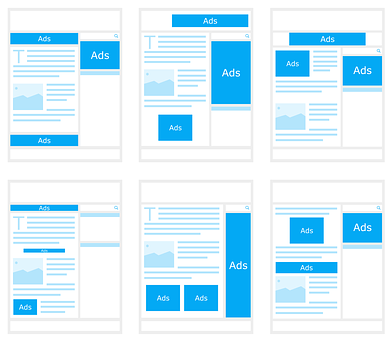 Google Ads is a form of paid advertising through the search engine, Google.  Ads are shown to users based on their searches.  The major benefit of using Google Ads is that consumers are seeing ads targeted to their searches while they are actively searching for your good or service.  Google Ads makes up for over 40% of the digital ad revenue for the entire world. 
Internet presence makes or breaks businesses throughout a number of industries.  Marketing professionals must transition from traditional marketing methods to digital marketing methods such as Google Ads to preserver. This situation makes the internet cluttered with intense competition.  Both businesses and consumers rely on the internet in making purchasing decision, product research, and more.
Benefits Google Ads Can Have on Your Business
Improved Brand Awareness
In the past brand awareness between business and consumers came from a variety of methods including newspaper, billboards, radio, and television advertisements.  This was a great method of marketing between business and consumers however left business to business advertising suffering.  Digital marketing, specifically through Google Ads, has transformed the way in which we create brand awareness within the marketplace.
Google Ads allows brands to advertise to targeted audiences that are researching specific products or services using specific keywords or keyword phrases that relate to the advertising business. Brand awareness is one of the many benefits businesses have advertising on Google Display and Search networks.
Quicker Than SEO
Google Ads works faster than search engine optimization.  SEO is a slow, methodically way in which to increase your organic presence online.  For businesses looking for a long-term presence within search engine rankings benefit from a combination of both organic and paid advertising.  Google Ads allows businesses to pay for visibility in the form of Google Ads amongst top competitors.   They allow your business to advertise directly to a target audience that is actively seeking out your products or services. 
Google Ads brings brand awareness about faster than traditional SEO methods. There is a tremendous amount of competition with paid advertising. The benefit however is that the business owner is in complete control of the amount they are willing to bid for top positions of their ads. A number of elements go into the amount each of the clicks on your ads will cost as well as the position at which your ad will sit on Google Search Networks or Google Display Networks. These include: Keywords Quality Score, Ad Relevancy, Landing Page Relevancy, and Expected Click Through Rate.
Google Ads is beneficial for a number of reasons including:
The Ability to Outrank Competitors Ads
The Ability to Influence Audiences to Make a Purchase
The Ability to Increase Brand Visibility to a Targeted Audience
The Ability to Test Variations of Ads and Keywords
The Ability to Create Different Campaigns and Strategies Based on User Demographics
The Ability to Schedule Ads to Reach Targeted Audiences at the Right Time
The Ability to Remarket to Audiences Who Have Showed Interest
Creative Programs and Systems, CPS, is an all-inclusive IT solutions company offering a variety of services including: managed IT services, IT consulting, residential computer services, custom programming, website design, iphone & android app development, and more. More information can be found at https://cpsmi.com.